Mirantis Lens' 1 million plus Kubernetes developers can now build secure code and ship it faster.
Houston, TX, November 12, 2020 – Carbonetes, a cloud native container security leader, announced a partnership and an extension for Lens – the Kubernetes IDE – that provides security insight and continuous scanning of pods in your Kubernetes clusters. Lens is the world's most popular Kubernetes IDE with more than 1 million downloads. The Lens Extension API and Extensions, made in collaboration with many popular CNCF projects, opens up the world to Kubernetes developers simplifying, creating, shipping, and running cloud-native applications. Carbonetes provides a developer-centric SaaS solution for analyzing your containers, comparing the results against your company policy and then automating the fix process. The typical trade-off between developer efficiency and security is no longer a trade-off, Carbonetes delivers both without compromise. Mirantis partnered with Carbonetes which delivers the most comprehensive shift-left container security by analyzing your container images for open source dependencies, code vulnerabilities, secrets, malware, and open source license risk. All of this can be integrated into your CI/CD pipeline for seamless automation without changing your current workflows. Using Lens Extensions, users can add custom visualizations and functionality to support their preferred cloud native technologies and to accelerate their development workflows. The extensions API will provide a wide array of options for extension authors to plug directly into the Lens IDE. "Lens' is a powerful and popular tool that enables developers to ship code faster into Kubernetes clusters," said Mike Hogan, CEO of Carbonetes. "Carbonetes complements this by enabling developers to build secure code faster. Together they deliver the agility and efficiency businesses need to innovate rapidly and safely."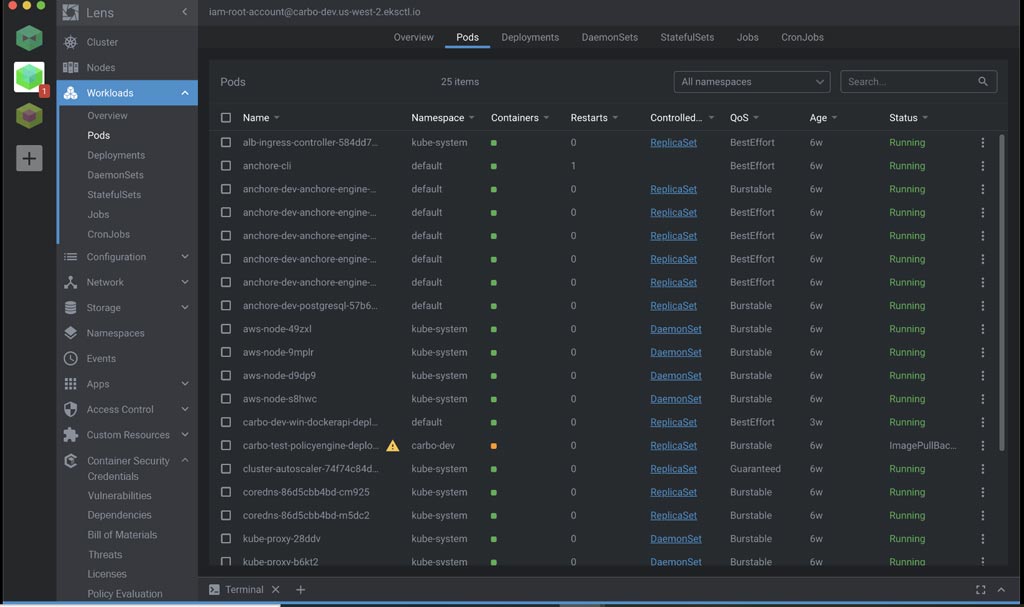 Carbonetes' Lens plug-in exposes security and policy history about the pods running in your Kubernetes clusters helping you identify and resolve security threats like stale images, configuration drift, exposure to new vulnerabilities, outdated policy, and more. Carbonetes' goal is to seamlessly integrate security into existing workflows. Our plug-ins for popular CI/CD tools provide developers with a seamless integration for developers. Now the Lens plug-in seamlessly integrates security insight into Kubernetes operations as well.
"Extensions API will unlock collaboration with technology vendors and transforms Lens into a fully featured cloud native development IDE that we can extend and enhance without limits," said Miska Kaipiainen, senior director of Engineering, Mirantis, and co-founder of Kontena, the company that initially developed Lens. "If you are a vendor, Lens will provide the best channel to reach tens of thousands of active Kubernetes developers and gain distribution to your technology in a way that did not exist before. At the same time, the users of Lens may enjoy quality features, technologies and integrations easier than ever."
Download Lens from the project website https://k8slens.dev
About Mirantis
Mirantis helps organizations ship code faster on public and private clouds. The company provides a public cloud experience on any infrastructure from the data center to the edge. With Lens and Mirantis Container Cloud, Mirantis empowers a new breed of Kubernetes developers by removing infrastructure and operations complexity and providing one cohesive cloud experience for complete app and devops portability, a single pane of glass, and automated full-stack lifecycle management with continuous updates.
Mirantis serves many of the world's leading enterprises, including Adobe, DocuSign, Liberty Mutual, Nationwide Insurance, PayPal, Reliance Jio, Splunk, and STC. Learn more at www.mirantis.com.
About Carbonetes
Carbonetes enables software developers to code faster, while making their containerized code more secure. Carbonetes scans your open source components and containers to find and recommend fixes. Carbonetes analysis is unparalleled, checking for vulnerabilities, open source dependencies, license issues, secrets, bill of materials, and malware. The three-step process – analyze, evaluate against policy, and recommend fixes – is automated and seamless, making development faster and more secure. Plug-ins for leading CI/CD tools mean your pipelines and workflows remain the same. Try Carbonetes for free.