Cloud-Native Container Security Done Right
The most comprehensive Container Application Security Testing Solution on the Market
*Now with Infrastructure as Code (IaC) Analysis

Cloud-Native
We run in kube, just like you

Integration
Works with your favorite tools

Serverless
Who really wants to install and maintain another app?

Comprehensive Analysis

The most comprehensive container security analysis in the market. No need to assemble bits and pieces; Carbonetes provides complete Container Application Security Testing (CAST) with best-in-class results.

Cloud-based / Serverless
Container Security-as-a-Service. Don't waste your time with installing and managing various on-prem partial solutions; Let us handle that for you. We're here to make your development faster and easier.

Optimized for Containers
All we do is containers, this focus, and integration with Kubernetes, makes us your perfect solution.
Try It FREE!
Register for free use of our full suite of analyzers for safer deployment
Analyze Your Code
Let us analyze your code for known vulnerabilities in various package repositories and images

Download & Install Plugins
Seamlessly automate your image analysis for the ultimate in DevOps efficiency

DEVELOP FASTER
You don't want to waste time running your code through six different security tools that you have to maintain on-premise. Who would? Carbonetes increases your development productivity by checking all security risks at once (open source licenses, open source dependencies, vulnerabilities, secrets and more) and it runs as a cloud service, so it's automated and fast.

DEPLOY WITH CONFIDENCE
The last thing you want is to be known as the person whose code was exploited to hack the system. Carbonetes evaluates all threat vectors in your native code and your open source tools. It evaluates these threats against company policy to ensure your code is secure before it goes into your Kubernetes cluster.

FIX FASTER
Carbonetes provides total visibility through drill-down into the detail of each threat vector. This makes it fast and easy for developers to mitigate those threats and get their code remediated and into production.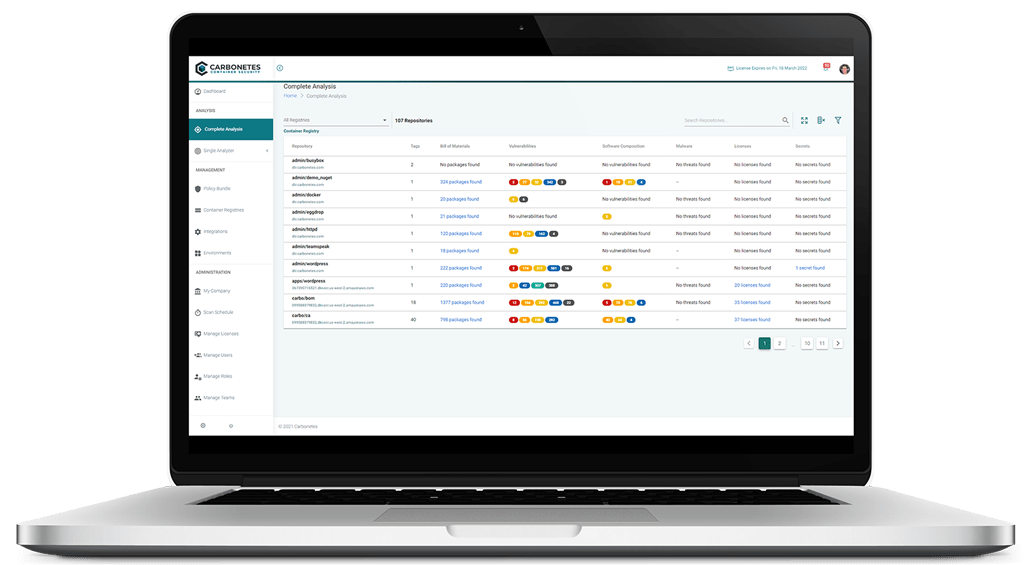 Try it FREE
See how Carbonetes delivers market-leading container protection in a serverless model
DevSecOps Workflow with Carbonetes Cloud Scanning